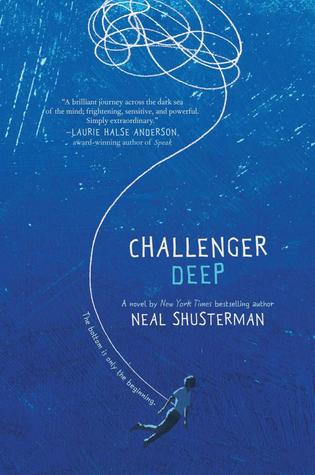 Title: Challenger Deep
Author: Neal Shusterman
Publisher: HarperCollins
Genre: YA, Contemporary
Pages: 320
Rating: 5/5
Dead kids are put on pedestals, but mentally ill kids get hidden under the rug.
Challenger Deep is about high school student Caden Bosch and his decent into mental illness. The segments of the book alternate between reality and Caden's hallucinations. We view the world through Caden's eyes, so not only do we see his delusions as he does, but we also notice how his friends and family begin to see how something is wrong.
---
I initially found the structure to be quite strange and confusing, so it took a bit of getting used to. I did find it very effective, however, in the later parts of the book, when I was able to connect the characters from the hallucinations to those in reality.
To be honest, I just found the rawness of this book very powerful. There was no sugar-coating of Caden's illness, and the reactions of his friends and family were so real.
I've read quite a few of Neal Shusterman's novels, and I found this one to be delightfully different. I really enjoy Shusterman's writing style, and the way 'Challenger Deep' is written is absolutely beautiful.
Review originally posted on Goodreads